If you have a company car and it is so time-consuming to keep a logbook, then maybe the 1% rule is just right for you. You can find out everything you need to know about it in this video. Hey, my name is Melchior from Kontist Steuerberatung and if you are like me, thinking that keeping a logbook is a real torture, writing down the mileage, starting point, ending point, explanations for detours, writing down which customers I met and so on… To be honest, I find it very time consuming. If you feel the same way, then there is a simple way of calculating the private usage share from the total cost of the car costs and that is the 1% rule. But before I go into the calculation, maybe first an overview of why this is actually important. As a self-employed person, if you have a car, you have a total amount of expenses for the car: Acquisition, repairs, fuel, vehicle tax, insurance and so on.
Not all of these, I want to say 100% of the costs, are really operational for you. Part of this is accounted for by the trips that you also do privately. When you visit your family, when you drive your children to school and so on, none of these are operational costs and for these costs , i.e. bringing children to daycare, the tax office does not want to give tax benefits.
This is your private activity and therefore you do not get any tax advantages. The easiest thing to do now would be to tell every self-employed person to own two cars. One for the company and one for private purposes, then we would have no more problems, it would be super clean to separate and everything would be easy. This is of course not particularly practical, so it is important that we find out how much of the total cost of the usage part of the one car we have is attributable to the company and how much is attributable to the private part. You can do that with the logbook method. Incidentally, we also shot a separate video for this, which I would be happy to link to you here. The simpler method is the 1% method. The 1% rule is not an accurate calculation based on actual costs, but is an estimation method, an estimation method based on the value of your car. And this estimation method is perfectly fine for the tax office. That means you can easily implement that and I think it's a lot less effort. In fact, under certain circumstances, you will have to pay more taxes, but you will have less trouble in the process of documenting.
The actual basic idea is actually that you take these costs out of your accounting, that means, you have to pay taxes for private use. So, you pay more taxes for the part of the business assets more or less privately. Here we come to the prerequisite: What do you have to meet in order to be able to take advantage of these 1% regulations? The car has to be in business assets, it doesn't make sense to deal with the 1% rule if you bought the car privately. The important thing here is that you can only buy the car with your company if you actually use it for at least 10%.
If you really only use it for private purposes, I sometimes get the question from customers who say: "Yes, actually I only use it for private purposes, but isn't it much easier and better for tax purposes if I buy it as a company?"The answer is then: "No, there really has to be at least 10% operational use." It is also important that you actually pay all the costs connected to the vehicle as company costs. That means, it all has to show up in your bookkeeping first. For example, on the way when you take your child to the daycare center and then go to refuel, this receipt must also be in the accounting department.
If you are on vacation in the south of France and have a car repair, then you have to pack this into the accounting first. Why? Because we first need a pool of all costs in order to deduct the private share. If the pool is not complete, this is less favorable for you, because you still have to carry these private parts yourself. Before we take a look at the 1% rule using an example, let's start with the basic principles… Why is the 1% rule actually called the 1% rule? Because you have to pay tax on 1% of the gross list price of your car every month and first of all the important thing is what is the gross list price? Every car manufacturer has a list price, that is the price, i.e. the net purchase price, the VAT, the optional equipment and all these prices are included. The important thing is, it is not your purchase price. This is not what you actually paid, because when you buy cars you have exchange bonuses, other discounts, financing models and so on. People pay this gross list price relatively rarely, which in theory exists once.
But this theoretical gross list price is the calculation basis for the 1% rule. That means, if you want to calculate that for yourself, just google your car plus the gross list price. It is important not to forget special equipment. Every month you have to pay tax on 1% of this gross list price, i.e. 1% of the value of your car increases your profit and you have to pay tax on it. But that's not all, because you also have to calculate the distances between home and work again, 0.03% per kilometer. If you drive 20 km to work, then you calculate 20 km times 0.03% and add that to the 1%. That means you take 1.6% of the gross list price, which is only taxable on a regular basis. From this 0.03% for trips between home and work, you can deduct the commuter flat-rate, which is known colloquially.
That is 30 cents per kilometer and from 21 km onwards it is 35 cents. You can deduct these costs from it, i.e. you only have to tax the difference between the 0.03% and this commuter allowance. You add it all up and then you have an amount that you have to add to your profit on a monthly basis and thus have to pay tax. This is the generalization of how you calculate all private costs from a tax point of view. The whole calculation of the 1% rule becomes a bit clearer if we simply do it using an example. So let's hypothetically assume that I bought a car with a gross list price of 50,000 €. It doesn't matter how much I actually paid. The important thing is the gross list price of 50,000 € and I would like to use this car privately and since I'm too lazy to keep a logbook, I choose the 1% method. What does this mean for me in terms of taxation? The first step is the simplest and that is 1% of the gross list price I have to pay monthly for my private trips.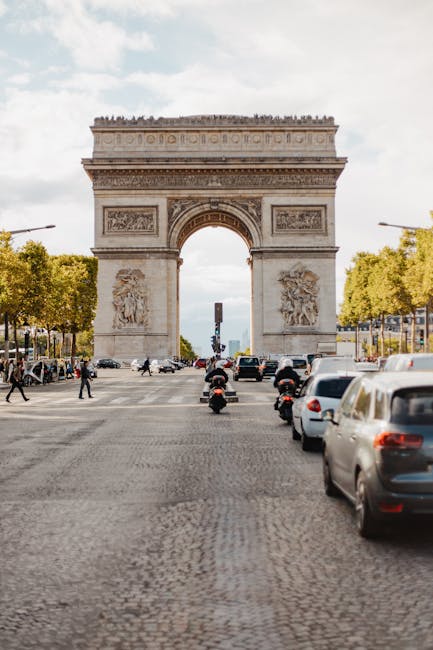 That is, 1% of 50,000 € is 500 €, which means I have to pay an additional tax of 500 € every month to allow me to use the car privately. Unfortunately, that's not all. I have to tax 0.03% again per kilometer for trips between home and work. 40km for me, that means I take 40 x 0.03% is 1.2%. So, I have to pay an additional 1.2% of the gross list price for using the car on the journey between home and work. So 1.2% of the 50,000 € gross list price is = 600 €. That means I have to pay an additional 600 € per month for driving this car from home to work. I can deduct the so-called commuter allowance from this. For me it is 40 km, I have to do 20 km, the first 20 km and then I have to calculate the second 20 km with 35 cents. If I assume that I drove to work 20 days this month, that means I calculate 20 km x 20 days x 30 cents for the first 20 km, that's 120 €.
For the second 20 km I calculate 20 km x 20 days x 35 cents is 140 €. In total I have a commuter flat rate of 120 € + 140 € = 260 €. In order to know what this 1% rule actually means for me in terms of taxation, I have to add up this position together. That means I take the 500 €, which is the 1%, the 600 €, which is the percentage of the distance from private trips between home and work, and then deduct the commuter allowance. That means I have 500 € + 600 € – 260 € = 840 €. I have 840 € a month which I have to take into account in my bookkeeping as a profit. And I have to pay taxes on this 840 €, which means that in addition to my normal other sales and profits, which of course I have to pay tax, I have to pay taxes for 840 € even if no money has been actually paid to me.
This is basically the theoretical consideration that I do not take money from the company, but use a service, company equipment, i.e. the car, and for that I have to pay taxes. And in my case that's 849 €. What that means for me in terms of taxation is of course very different. If my average tax rate is 10%, then it's just 10% of 840 €. If my personal tax rate is 40%, then 40% of the 840 €, so I can't say in general what that means for you in terms of tax. You should always know your personal tax rate, but in this case you should know the way you calculate it. In my case it would be 840 € more profit that I have to pay tax on. But German tax law would not be German tax law if that really were all.
We have now only looked at the income tax perspective. What is still missing is the VAT perspective, because we also have to pay VAT regularly as part of the 1% method. Maybe first to the basic idea why is that so? You have an input tax deduction for refueling, purchases, repairs and so on, which means that the bottom line is that the company doesn't just pay the net amount. If some of this service goes out of the company, namely in the context of private use, e.g. in the context of the 1% method and you have an input tax deduction in, then you also have to pay VAT when the service goes out and that's why the tax office also wants us the to pay VAT on it.
The calculation works in a relatively similar way and we also use 1% of the gross list price for the VAT calculation basis. If we stick with my example 50,000 €, 1% of that is 500 € and this 500 € is the basis for calculating the VAT. But we don't count the VAT on the 500 €. This is because not all services that go into this company are subject to VAT. I don't have an input tax deduction on all services, but for example the car insurance and the car tax are not subject to VAT and that's why I have no input tax deduction and the tax office says, it is so fair that the service is not subject to 100% VAT, because VAT was not completely on it from the start.
And that's why the tax office says flat-rate: "OK, then we'll just deduct 20%." We now have 1% of the gross list price, in my example it is 500 €, from which we subtract 20%. 20% of 500 € is 100 € and that means I calculate 500 € – 100 € = 400 € and that is the assessment basis for VAT. I then apply the VAT rate to this 400 €, as there is no reduction for it, I apply 19%. 19% VAT x 400 € that is 76 €. That means I have to pay another 76 € every month as part of my VAT advance notification to the tax office so that they also use the car privately.
Then I have practically all of the tax consequences. In my example 840 € per month + 76 € VAT, which I have to pay to the tax office. I know this video was full of numbers and it's a little difficult to follow at times. Most of all, you probably want to figure it out for yourself now. I have prepared a Google Spreadsheet for this, which you can find linked in the video description below. You can look at it for free, you can enter your number to calculate for yourself if the 1% method would actually make sense for you. I hope this video was able to help you and answer your questions. If you have any further questions about vehicle taxation, please write us a comment below this video or just let us speak personally. We are specialized digital tax consultants for freelancers and self-employed and all information about us and our offer can be found below in the video description. Otherwise you should subscribe to our channel, we have also shot other videos that you are welcome to watch, here or here.